Otvárame archívy, aby sme sa v tejto rubrike pokúsili priblížiť čitateľovi dianie na Košickom maratóne vždy v roku, ktorý o presné násobky desaťročí predchádzal dnešku.
Chapter 4: What happened at Košice Marathon 60 years ago

THE WORLD´S FASTEST MAN ON THE START LINE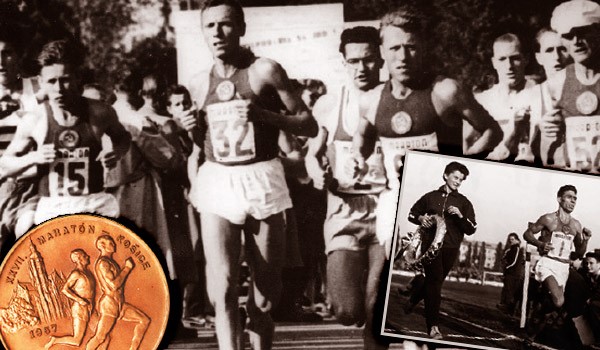 Ambitions of the Kosice marathon organizers in 1957 were again high. As a consequence invitation for Sergej Popov was sent. In early September Sergey became the new leader of the world ranking by winning Moscow marathon with time 2:19:50. His fellow countryman Ivan Filin, who lost almost 2 minutes on Popov in Moscow, has arrived with him to Košice too. The race was held on October 13 and Filin unexpectedly bet Popov here. Only British athlete Ernest Kirkup could make his way on the winners stage among these two Russians. That wasn´t the only Kirkup´s success in this year seeing that he won the national championships in Watford as well.
For the 15th time also 48 years old József Kiss came to compete in Košice. The winner from 1939 and 1942 bet most of his rivals again with respectable time 2:42:51.
But the great moments of Sergej Popov were just about to come. In 1958 he became European champion and the year after he finaly won also marathon in Košice. And the victory was not one of many. With the time 2:17:45 from Košice he ruled the 1959 world ranking once again. But that´s another story…
RESULTS
Kosice Peace marathon
Sunday October 13, 1957
1. Ivan Filin / Soviet Union / 2:23:57,8
2. Ernest Kirkup / Great Britain / 2:25:54,8
3. Sergej Popov / Soviet Union / 2:26:09,2
Next story: What happened in 1967