Juan Carlos Zabala
FROM KOSICE TO LOS ANGELES
Orphaned at an early age, he met sports instructor Alexander Stirling at the children's home when he
was 13. Stirling recognized his great talent for running, won him over to the sport, and became his
trainer and manager. When in 1931 Zabala won the South American 10 000 meters championship
(31m19.0s), his trainer took him to Europe in the autumn of that year. In Vienna he beat the world
record in the 30 000 m track race with a time of 1h42m30.4s, and only 18 days later in his marathon
premiere he won in Kosice with the extraordinarily good time of 2h33m19s, beating the course record
set by Pál Király in 1925 by more than 8 minutes. Zabala's performance was only 22 seconds slower
than that of the 1928 Olympic champion, the Frenchman El Quafi. On 8th November, 11 days after the
marathon, Zabala tried to break the world record in the hour race. The result of his efforts was "only"
a new South American record (18 605.77 m). A year later, however, he confirmed his indisputable
qualities at the Los Angeles Olympic Games. With a time of 2h31m36s he gained the gold medal with
a new Olympic record. Shortly before the Berlin Olympics in 1936 Zabala set a new world record over
20 000 m
(1h04m00.2s) and by rights became considered as the top favorite for the Olympic
marathon gold. At the Berlin Games, however, he first of all ran the 10 000 m race (6th place in
31m22.0s), but he did not complete the marathon course.
In his short career as a marathoner Zabala started in five marathons: two of them he won, and
three he did not finish. To this day, though, he keeps pride of place in history for being the youngest
ever Olympic victor in the longest of races. In his honor in 2006 the Košice Peace Marathon
Committee organized the first edition of the Junior Relay race entitled "In the Tracks of the Marathon
Legends". He died on 25 Jan. 1983.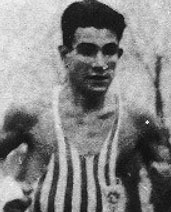 | | |
| --- | --- |
| Name: | Juan Carlos Zabala |
| Born: | 21.9.1911 |
| Nationality: | Argentína |
| Club affiliation: | - |
| Personal record: | 2:31:36 |
Košice (MMM):
1931
winner
2:33:19 course record
More information:
Olympic games (Los Angeles)
1932
winner
2:31:36 Olympic record