Josef Šulc
NINTH IN THE WORLD
Between 1931 and 1942 he gained six champion's titles on the marathon course. In 1933 he finished
the Vienna Marathon in 2nd place, but in doing so he ran the best time of his career (2h37m31s),
which in that year ranked him in ninth place in the world. He died on 10 July 1977.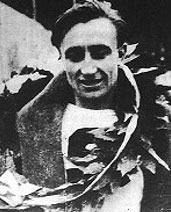 | | |
| --- | --- |
| Name: | Josef Šulc |
| Born: | 12.9.1907 |
| Nationality: | Czechoslovakia |
| Club affiliation: | Sparta Praha |
| Personal record: | 2:37:31 |
Košice (MMM):
1932
8th place
2:53:16
1933
3rd place
2:42:43
1934
winner
2:41:26
1935
did not finish
More information:
Vienna
1933
2nd place
2:37:31
European Championships (Turin)
1934
9th place
time not measured
Olympic Games (Berlin)
1936
38th place
3:11:47,4
Rekordy:
Czechoslovak record
in the 20 000 m race
1939
1:12:29,4
Czechoslovak record
in the 30 000 m race
1939
1:51:04
Czechoslovak record
in the 25 000 m race
1939
1:31:15,6
Czechoslovak record
in the 20 000 m race
1941
1:10:49,9